Share this article paywall-free.
A Richmond family with long ties to the local dining community has opened a new restaurant: 88 Street Food at 5905 W. Broad St.
Located in the former spot of The Crazy Greek, 88 Street Food serves eight kinds of banh mi, small plates like steamed buns stuffed with bulgogi beef and boba tea drinks topped with fluffy ube foam.
"The idea is fast-casual Vietnamese," owner John Nguyen said. His family also runs Vietnam One at 6215 W. Broad St. "We wanted to have a boba tea shop with good food, where you can take the food to go or you can sit and enjoy your tea."
Nguyen launched 88 Street Food with his uncle, Paul Tran, who owned Pho 1 Grill and House of Vietnam in Short Pump. Tran arrived in Richmond over 40 years ago as a Vietnamese refugee and started working as a chef at Peking restaurant.
Drawing on family recipes, Tran said, "we have been thinking of this concept for a long time."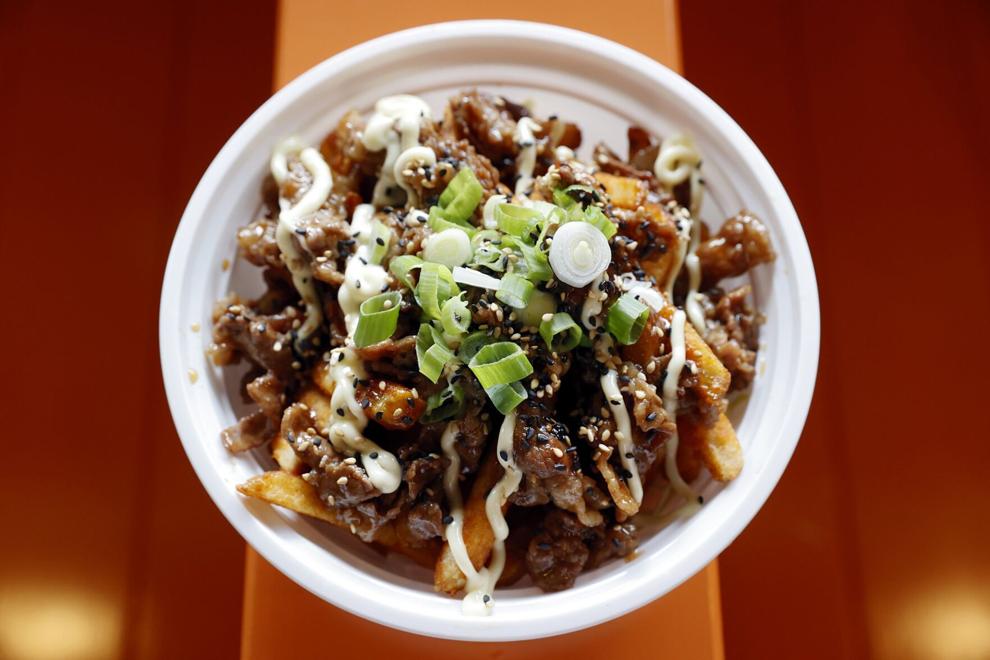 The eight kinds of banh mi ($8) are served on a toasted French baguette with house-made mayo, daikon radish, carrot, cucumber, fresh jalapeno and cilantro. Banh mi can be filled with traditional pork, tofu, grilled chicken, pâté or the house favorite bulgogi beef, which is Korean beef barbecue marinated in a savory-sweet sauce, among others.
88 Street Food also serves small plates such as popcorn chicken ($8), tossed in spicy garlic or Korean spice; bun buns stuffed with bulgogi beef; lemongrass pork or chicken ($8); and teriyaki chicken skewers ($8). It also offers garlic fried wontons ($7), gyoza ($7), crispy spring rolls ($4) and shrimp rolls in rice paper ($4).
Be sure to check out the bulgogi fries ($8), a fusion dish of french fries topped with marinated bulgogi beef, spring onions and house-made mayo.
Noodle and rice dishes are also on the menu ($11), filled with bean sprouts, daikon radish, carrot, edamame, lettuce, scallions and sesame seeds. They can be topped with proteins such as lemongrass pork, garlic shrimp, teriyaki chicken and bulgogi beef.
The space is bright and airy with orange chairs, white tabletops, seating for 40 and a selfie spot with string lights and a neon sign that says, "Boba is life."
The owners took inspiration from similar boba tea shops in California.
"It's counter service. Everything is in to-go containers; you can eat in or take it to go," Nguyen said.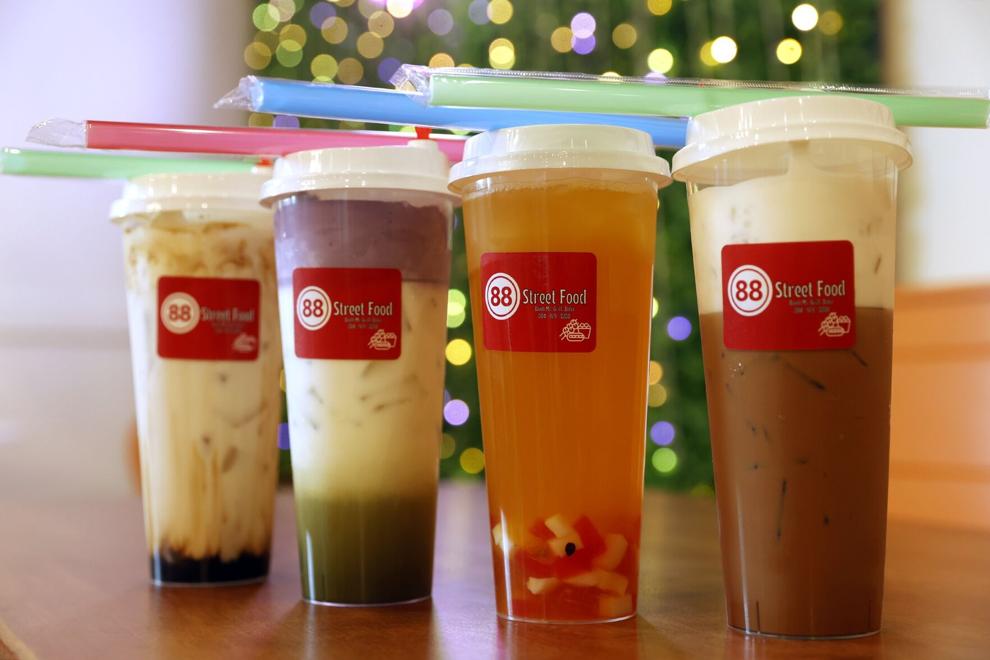 Boba tea, Vietnamese coffee and fruit teas ($5.75-$5.95) make up a significant part of the menu, with over 30 drinks offered.
Boba tea, or bubble tea, is a sweet Asian drink made from fruit-flavored or milk teas with chewy tapioca balls known as boba.
88 Street Food offers many visually striking drinks, such as the matcha milk tea with ube foam, Vietnamese coffee with sea salt and foam and the 88 signature milk cap with brown sugar. Tapioca pearls, crystal boba and other toppings can be added to drinks for 75 cents.
Fruit teas also come in a variety of flavors, such as passion mango, strawberry lemon and longan jujube, which comes from sweet longan fruit. Popular toppings include rainbow jelly candy, strawberry stars and rainbow pops.
The space also offers a few Asian and European staples for sale, such as Cafe du Monde coffee, Chin-Su pho hot sauce and plush toys.
Nguyen and Tran said they chose the former Crazy Greek spot for 88 Street Food because it is just a few blocks up from Tan-A Plaza, which offers an Asian supermarket and Asian shops.
Tran said he has watched the Asian population grow in Richmond. According to 2020 U.S. Census data, the Asian population has increased in Richmond almost 50% over the past decade.
"We feel very lucky to be here," Tran said.
The name 88 Street Food was chosen because the number 88 means fortune and luck in Chinese culture.
"I've seen a lot of boba tea shops around Richmond, but none offered food," Nguyen said. "Good food and a relaxing place to enjoy your tea, that's what we offer."
PHOTOS: 88 Street Food