CITY CENTRE SALT LAKE

Street food from Kolkata has always been a major attraction. City Centre New Town and City Centre Salt Lake's Street Food Festival in association with t2, is a celebration of that.
On till November 14, shoppers and passers-by are indulging in tangy, spicy and sweet dishes like papri chaat, phuchka, bhelpuri, firni and more.
With 17 stalls at Salt Lake and 13 stalls at New Town, the feast is not to be missed.
"We are pleased to introduce the events back in our malls keeping all the Covid norms intact as patrons of City Centre malls have been eagerly waiting for almost a year to celebrate with us," said Ramesh Pandey, whole time director, Ambuja Neotia Group.
Menu picks
Phuchka: We say street food, you say phuchka! No street food festival is complete without the one thing that makes everyone's mouths water. Rs 30 for six pieces @ Pappu Fuchkawala (Russell Street)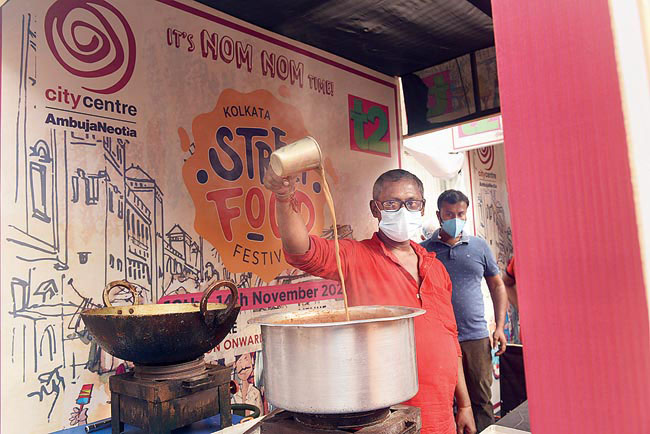 Kullad Wali Ginger Chai: A trip to a food festival is incomplete without trying different flavours of tea. This Kullad Wali Ginger Chai claims to be the most popular tea, that sells in gallons. Don't believe us? Try it out yourself! Rs 30 @ Chai Thek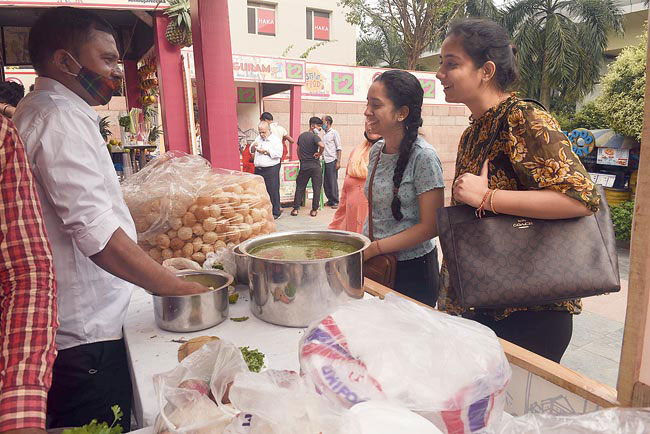 Digging in
t2 caught a moment between these two friends, Priya Bhutra and Aishwarya Bhutra, bantering over the correct spice level in their phuckas. "We love phuchka! Just that, I can't have it too spicy, whereas my friend wants it super spicy," said Priya.
"I am trying the bhetki fish fry today," said Subhashree Sadhukhan, a government employee who was eagerly waiting outside Poush Parbon.
CITY CENTRE NEW TOWN

Menu picks
Indian Fashion (centre): Cool off with this soothing drink. Made with lime juice, lime cordial and soda, this refreshing drink will keep you hydrated and your spirits high! Rs 100 @ Sikdar Juice and Mocktails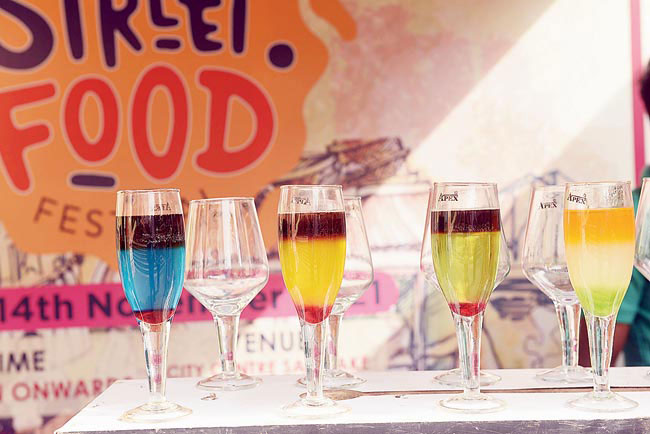 Chicken Reshmi Kebab and Chicken Tandoori: Who doesn't love hot freshly grilled kebabs, straight from the grill on your plate? These kebabs were hot, crispy and juicy! Rs 300 for six pieces of Reshmi Kebab and Rs 440 for Tandoori Chicken @ Aminia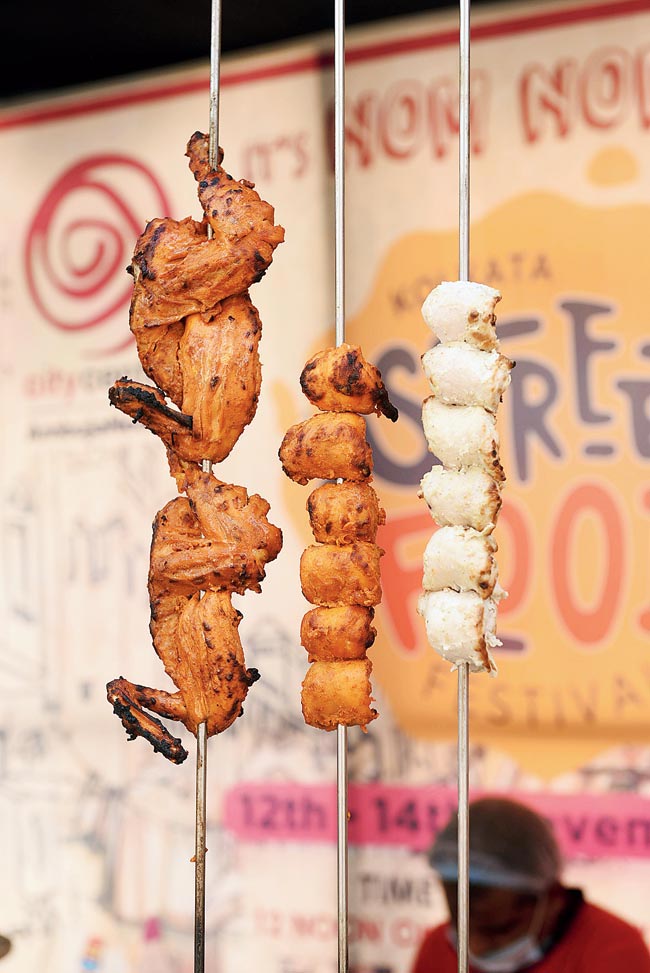 Malai Roll: Everyone deserves some sweet pleasures! This creamy and delectable Malai Roll, made with milk solids, will be perfect for your sweet cravings. Rs 40 a piece @ Nalin Chandra Das & Sons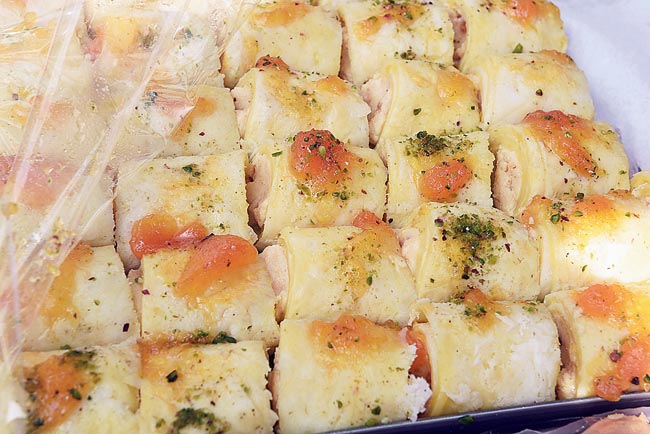 Orange Kulfi:  Oh how lovely is this kulfi, served like a flower! Served within an orange, this is as fragrant and flavourful as a flower. Rs 80 @ Chauhan Victoria Vada & Parameshwar Kulfi Wala
Pav Bhaji Special with two breads: When we try to make a list of the classic street food, Pav Bhaji has to be there. This spicy and tasty Pav Bhaji has an aroma that it is bound to attract food lovers! Rs 170 for full plate@ Mayaram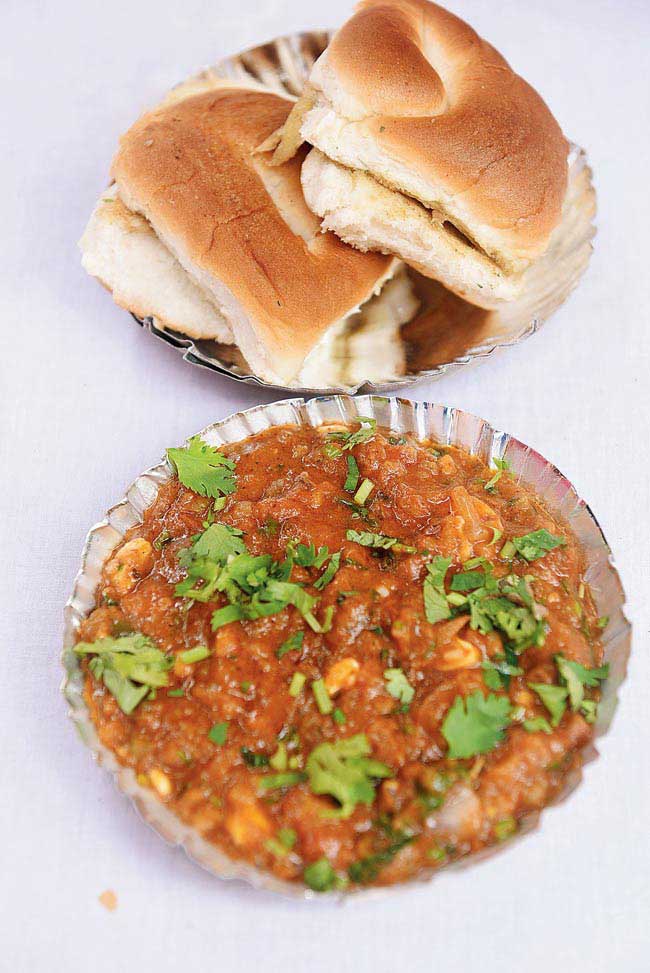 Digging in
"As soon as we saw the set-up, we planned to visit the stalls. We are still deciding what to have," said Arup Chowdhury who was present with Aparajita Chowdhury.
"I am a huge fan of Nalin Chandra Das & Sons. I live nearby, and decided to take home something sweet," said Koustav Chatterjee, a sweet-enthusiast who took home a pack of raas malai.
What: City Centre presents Kolkata Street Food Festival in association with t2
Where: City Centre Salt Lake and City Centre New Town
On till: November 14, noon to 9pm
The participating stalls:
City Centre Salt Lake
India Restaurant (Kidderpore)
Mitra Cafe
Bijoli Grill
Kalika
Nalin Chandra Das & Sons
Go Lebanese
Chai Thek
Mayaram
Dilruba Restaurant
Chauhan Victoria Vada & Parameswar Kulfi Wala
Ganguram
Pappu Fuchkawala (Russell Street)
Plaite
Sikdar Juice & Mocktail
Aminia
Kusum Rolls
Poush Parbon
City Centre New Town
Mitra Cafe
Go Lebanese
Chai Thek
Mayaram
Bandana Chat Centre
Ganguram
Nalin Chandra Das & Sons
Chauhan Victoria Vada & Parameswar Kulfi Wala
Hedua Chat
Aminia
Plaite
Sikdar Juice & Mocktail
Poush Parbon