When most people think about the traditional recipes and cuisine of south Louisiana, they usually make a list of meals like gumbo, jambalaya, red beans and rice, and crawfish etouffée. These dishes are a combination of French, West African, Spanish, Italian and Caribbean cuisine.
However, over the past 40 years or so, Vietnamese traditional foods have become a delicious addition to this list of favorite New Orleans dishes.
The cuisine of Vietnam found its way to New Orleans in the mid-1970s when thousands of Vietnamese refugees began settling in Louisiana during the last days of the Vietnam War. The culture and climate offer some similarities to Vietnam. Not only are both places hot, humid and swampy, but they also share a French colonial history.
Over time, traditional Vietnamese cuisine found its way into local restaurants, festivals, po-boy shops and bakeries — the popular Dong Phuong Bakery, known for its banh mi po-boy and award-winning king cake is a prime example. Other local establishments have embraced Vietnamese cuisine, serving pho, spring rolls and vermicelli bowls.
At some point every summer, I begin to crave vermicelli bowls because they are fresh, delicious, and, importantly, easy to make. Making just one vermicelli bowl leads to not only craving the dish but wanting to experiment with other combinations of ingredients and toppings.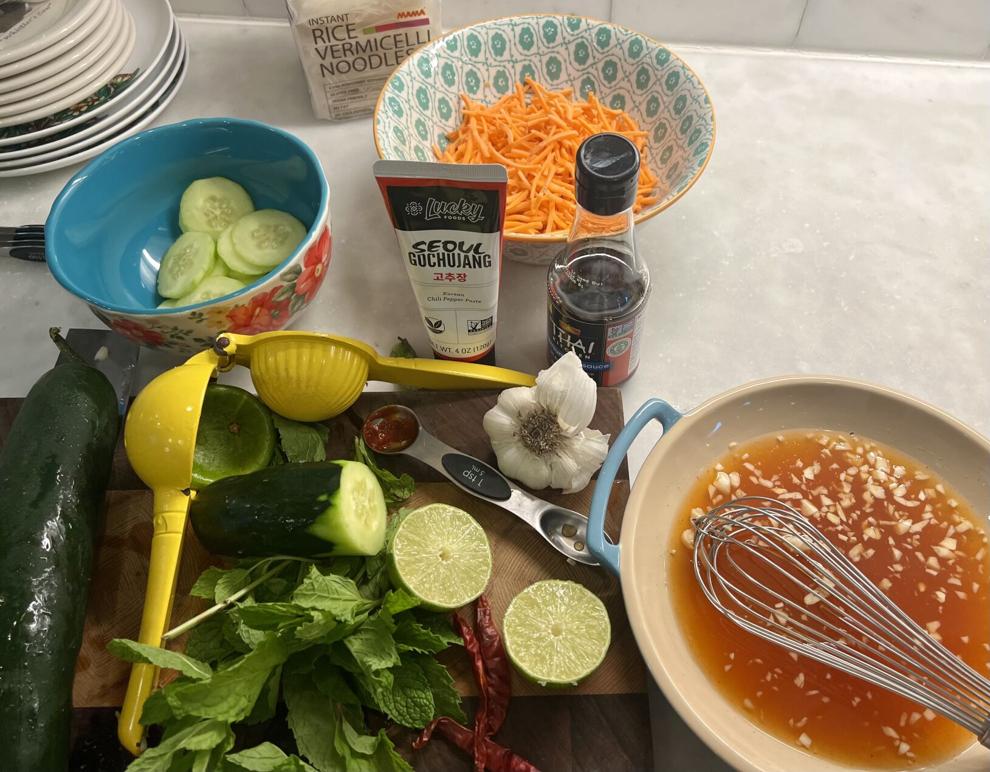 The recipe below includes carrot and cucumber (two quintessential summer ingredients), but if you prefer summer squash and green beans, feel free to tailor the dish to your taste. You may also want to consider changing up the protein source: pork, beef, seafood and tofu are all great options.
The real secret to this dish is the traditional Vietnamese dipping sauce called nuoc cham. It is a sweet and sour fish sauce served alongside spring rolls or used as a dressing in noodle bowls. My friend Van Vuong, who is Vietnamese, gave me this recipe. It is her family's favorite version of the dipping sauce. I made it for my family and they already want me to make it again!
Vermicelli Noodle Bowl with Vietnamese Sauce
Serves 4. Recipe is by Liz Faul.
1 rotisserie chicken, meat removed and cut into bite-size pieces
1 (8-ounce) package rice vermicelli noodles (*not vermicelli pasta)
1 cup chopped red leaf lettuce (or use any favorite lettuce)
1 cucumber, peeled and sliced
4 carrots, peeled and cut into matchsticks (*note: pre-cut matchstick carrots work great)
Vietnamese dipping sauce (see recipe below)
3 tablespoons chopped fresh mint
3 tablespoons chopped fresh cilantro
Lime wedges, sriracha hot chili sauce, toasted sesame seeds or chopped peanuts (optional for garnish)
1. Remove the breast and thigh meat from a rotisserie chicken and cut into cubes. Set meat aside in a bowl.
2. In a pot, boil water to cook the rice vermicelli noodles. These noodles only take 2-3 minutes to cook, so it is best to follow the package directions. Drain the cooked noodles in a colander. Rinse the noodles with cold water to separate noodles.
3. Assemble each vermicelli bowl by placing the chopped lettuce on one side of the bowl and the noodles on the other. Add the cut cucumbers, carrots and meat on top of the lettuce and noodles.
4. Dress the noodle bowl with a drizzle of the Vietnamese dipping sauce.
5. Garnish the bowl with chopped fresh mint, cilantro, a lime wedge, a few drops of sriracha hot chili sauce (for extra spice) and toasted sesame seeds or chopped peanuts, if desired. 
Vietnamese Dipping Sauce
Yields 1½ cups of sauce. Recipe is by Van Vuong.
2 cloves of garlic, sliced
1 Thai bird chili chopped, finely sliced (optional)
1 teaspoon ground chili paste
¼ cup fish sauce
⅔ cup hot water
1 lime (or about 2 tablespoons of lime juice)
¼ cup sugar
1. On a cutting board, finely chop the garlic and Thai bird chili.
2. In a bowl, combine the chopped garlic and chili pepper with the ground chili paste. Add the fish sauce, hot water, lime juice and sugar to the bowl and stir until the sugar is dissolved.