Plant-based eating should never be boring! That's why we've rounded up our favorite finger-licking-good vegan recipes that will impress even the pickiest eaters. Learn to create vegan and oil-free versions of comforting classics like potato skins, quesadillas, tacos, mac and cheese, brownies, ice cream, and more. These tantalizing dishes use easy cooking techniques and familiar ingredients so you can avoid overly complicated recipes without skimping on flavor. Get ready to dig in and enjoy!
SNACKS & APPETIZERS
Break out these mouth-watering vegan recipes when you're in the mood for finger food that tastes like classic pub grub without all the unhealthy ingredients. Whether you're hosting a party for game day or cooking for your kid's birthday party, these tasty snacks are sure to satisfy everyone on your guest list.
MAIN DISHES
When you want to sink your teeth into a hearty, substantial meal, these main courses are packed with good-for-you ingredients, exciting spices, and plenty of comforting flavors that will keep you satisfied. Add one of these healthy vegan recipes to your lunch or dinner rotation and savor all the delicious benefits of a plant-based plate.
Creamy mushroom gravy is the star of this delectable dish that offers a vegan twist on a classic comfort-food recipe. Hearty meatballs made from quinoa, chopped veggies, and savory herbs top a bed of whole wheat pasta and fresh spinach. The rich umami flavors of this vegan recipe really shine through when sprinkled with a garnish of fresh parsley and black pepper.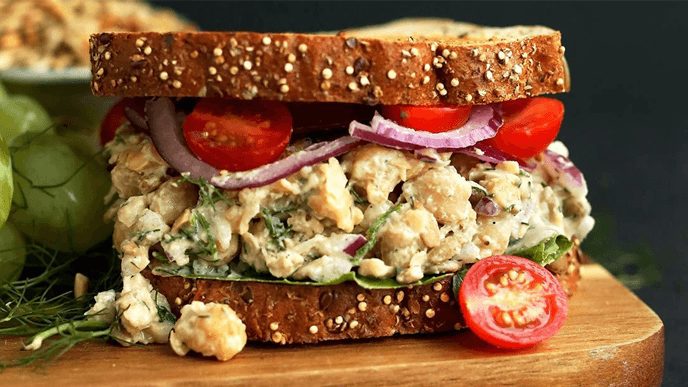 Roughly mashed chickpeas and a tangy-creamy sauce made with tahini, mustard, pickles, and capers make a seriously delicious filling in this FOK fan-favorite recipe. Top this "tuna" salad with fresh tomatoes, red onion, and lettuce for a scrumptious vegan version of the classic deli sandwich.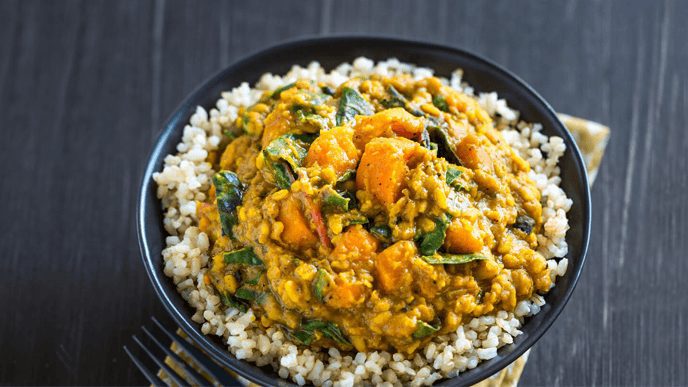 You don't need ghee or oil to create a rich Indian curry dish. Let the heady aromas of Indian spices fill your whole house as it simmers, then thicken it up with vegan yogurt for a savory, creamy end result. Overflowing with nutrient-rich veggies and lentils, this is an excellent meal to add to your regular recipe rotation.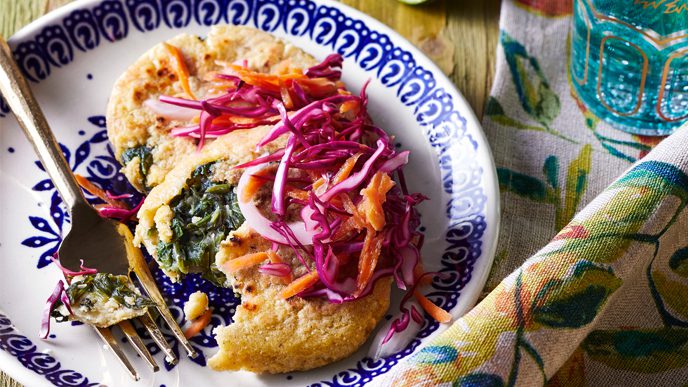 A traditional dish in Salvadoran cuisine, this crave-worthy vegan recipe will soon become a staple in your household. Crispy pockets of savory corn are stuffed with a creamy spinach filling thanks to the potato-based "cheese" sauce. Quick-pickled veggies add tang and vibrant color to the dish so you get an explosion of scrumptious flavor with every bite.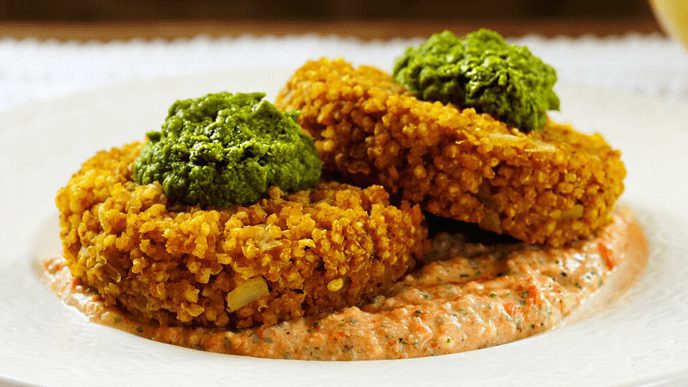 Searching for a show-stopping vegan recipe that doesn't take hours to make? Look no further. These little croquettes are spiced with Indian flavors and baked to crunchy perfection. The red pepper coriander sauce adds a delicious creamy element to the dish and looks worthy of a Michelin Star restaurant.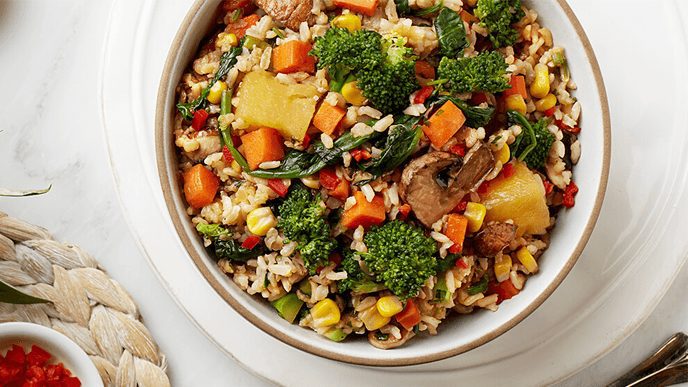 While most restaurants wouldn't dream of doing fried rice without egg and plenty of oil, we use a water-frying technique and a cornstarch-thickened teriyaki sauce to deliver flavorful, browned goodness without the grease. Loaded with fresh veggies, sweet pineapple chunks, and spicy red chile, this better-than-takeout dish will quickly become a weeknight favorite.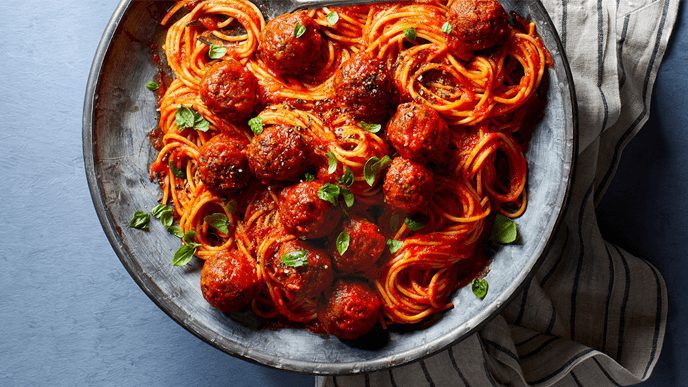 This veganized version of spaghetti and meatballs is such a hit with our readers that you would think it's nonna's secret recipe! Juicy mushrooms are mixed with hearty lentils and plenty of Italian spices to form succulent "meatballs" that are then nestled into spaghetti and marinara sauce. Add some chopped basil on top and get ready to dig into the world's coziest bowl of pasta.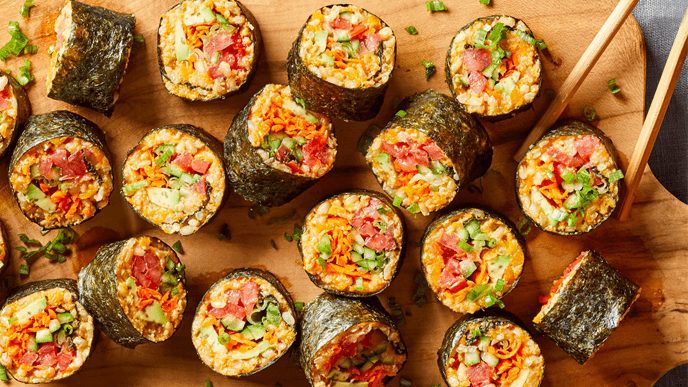 Transport your tastebuds with this delicious Japanese-inspired vegan sushi recipe that's as flavorful as it is beautiful. Butternut squash is simmered with brown rice to give it a creamy texture and warm flavor, while fresh tomatoes are tossed in a spicy sriracha sauce. Break out your nori and sushi mat to roll up these bite-sized slices of veggie goodness and serve with soy sauce.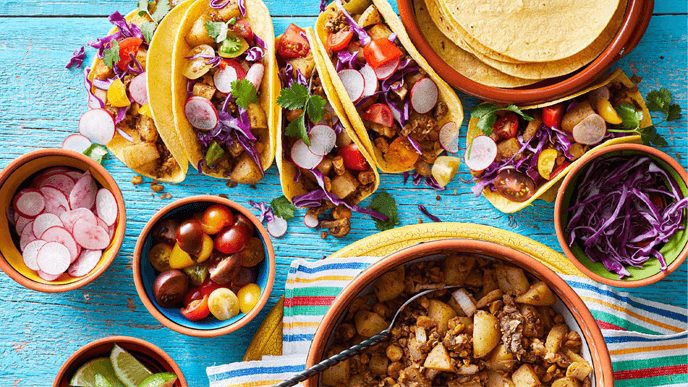 Seasoned potatoes add substance to the meaty filling of these irresistible mushroom "chorizo" tacos, and a smoky blend of Southwest spices turn up the heat for a vegan twist on your favorite taco stand flavors. Garnish them with crunchy cabbage, fresh tomatoes, and salsa for a meal that will leave you satisfied instead of overly stuffed.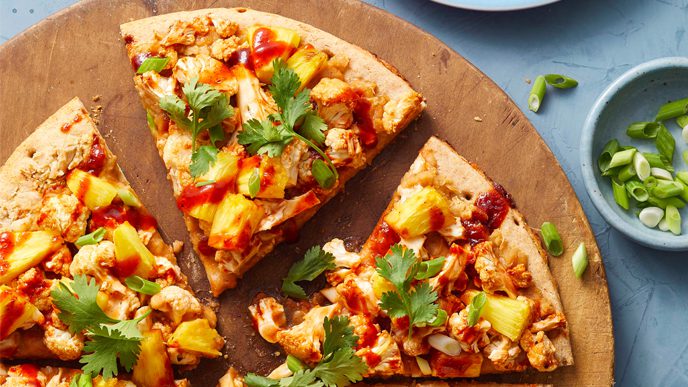 You'll swoon with delight during every bite of this flavor-packed, plant-based pizza. Smoky cauliflower florets pair perfectly with sweet pineapple chunks and an extra drizzle of savory BBQ sauce. Prepare this healthy vegan recipe when you're craving something that tastes like junk food but is actually bursting with nourishing ingredients.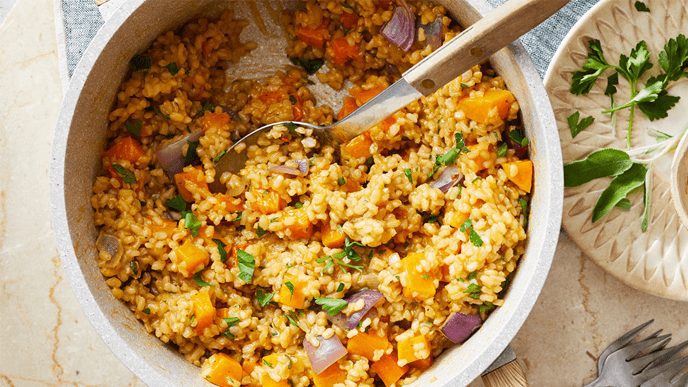 The secret ingredient for a perfect risotto? A bit of elbow grease! While this dish requires constant stirring it's well worth a little extra effort in the kitchen. The warm flavors of butternut squash and sage melt into the creamy rice that soaks up the flavors of sauteed garlic and shallot. Drizzle it with a balsamic vinegar reduction to add extra depth and a hint of sweetness.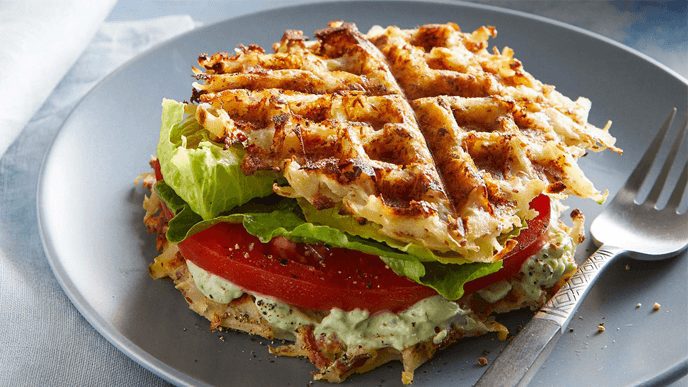 Seasoned potatoes are transformed into crispy waffles and used as the base for veggie-packed sandwiches that take "breakfast for dinner" to a whole new level. A savory herbed cream sauce adds a tangy element to the dish and a dash of hot sauce turns up the heat. Enjoy these veg-forward sandwiches at any time of the day or night!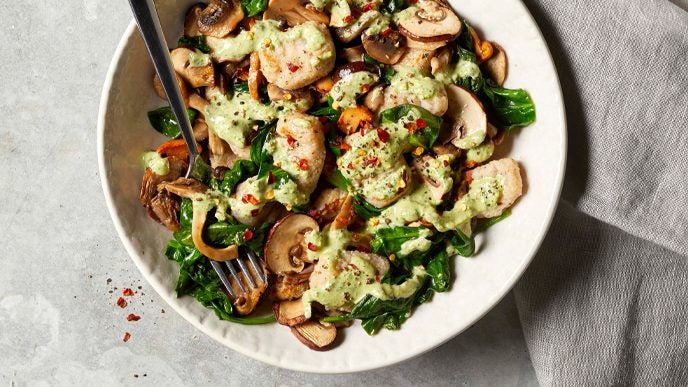 While it might sound intimidating to make gnocchi from scratch, this easy vegan recipe is worth flexing your home chef muscles. Pillowy nuggets of potato pasta are sautéed with umami-rich mushrooms and fresh greens, then drizzled with a zesty parsley sauce that adds a bright pop of herbal freshness to balance out all the savory flavors. Top everything with red pepper flakes if you like a little extra heat.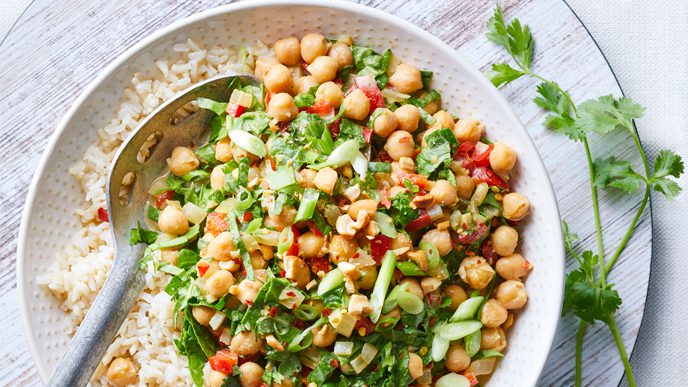 This simple chickpea curry is the ultimate vegan recipe for when you're craving something quick, comforting, and oh-so-satisfying. Thai green curry paste is enhanced with creamy coconut milk and fresh cilantro for a saucy base that coats any fresh veggies you have lying around in the fridge. Serve over a bed of brown rice for a meal that will stick to your stomach.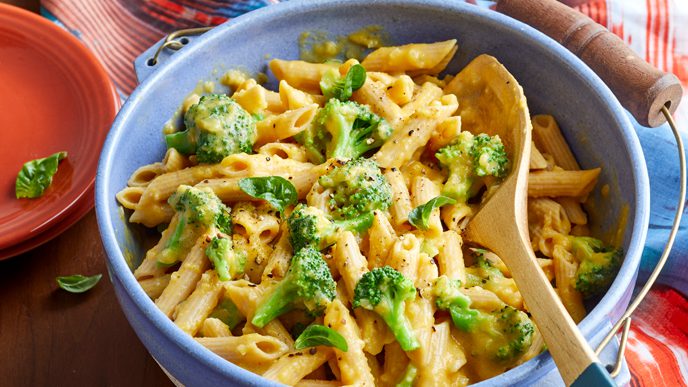 No collection of comforting vegan recipes would be complete without a good plant-based take on mac and cheese. The satisfying and good-for-you butternut squash sauce will make you forget all about boxed mac and cheese and its powder packets. Blended with savory nutritional yeast, fragrant garlic, and tangy white wine vinegar, this sauce is exceptionally creamy and pairs perfectly with the tender bite of steamed broccoli.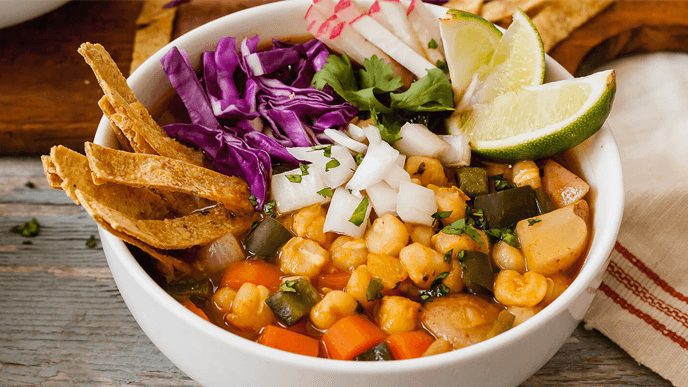 This warming recipe takes a meaty Mexican classic and turns it into a hearty bowl of veggie goodness. Hominy is combined with potatoes, carrots, and plenty of chiles—three different kinds, to be exact. Enjoy with a healthy garnish of cabbage, cilantro, and tortilla chips for a meal that warms the belly and lifts the spirits.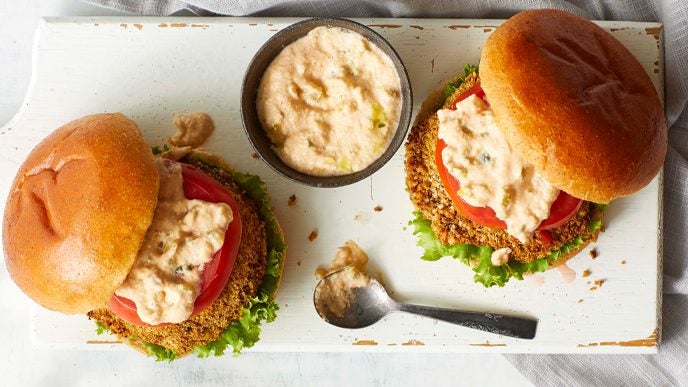 Crispy, crunchy portobello patties, tangy plant-based Thousand Island aioli, and a stack of juicy veggies? It doesn't get better than this. Whip up this divine vegan recipe for your next summer BBQ or whenever you're craving a meal that tastes like fast food without all the unhealthy ingredients.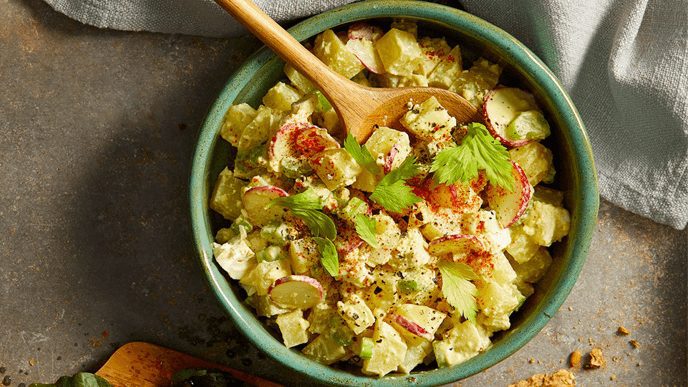 Tofu is the secret ingredient in this eggy salad that one reader calls "the motherload of goodness." A creamy cashew sauce binds together the melt-in-you-mouth cubes of tofu and cooked potatoes, while chopped onion and celery add a traditional deli quality to this delightful vegan recipe.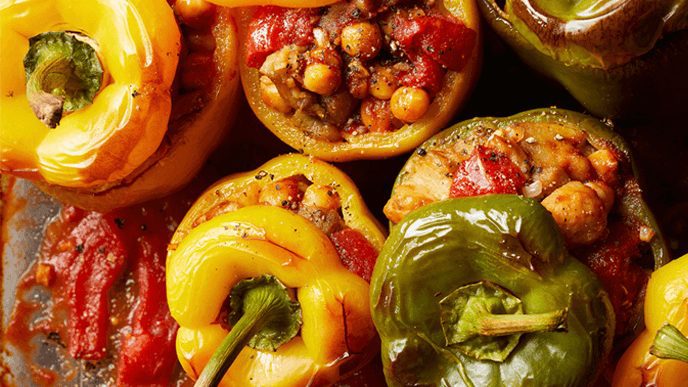 These juicy vegan stuffed peppers are bursting with the savory flavors of roasted veggies and fresh herbs. A hearty mixture of chickpeas and eggplant fill the delicious pepper cups and a simple homemade tomato sauce bakes on the bottom to infuse everything with a rich flavor. Serve with a side of whole wheat couscous to really turn up the Mediterranean vibes!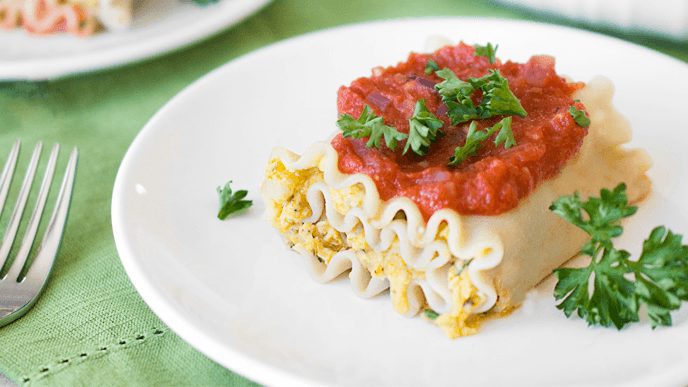 A creamy mixture of roasted butternut squash and navy beans replaces the cheese in these clever and quick lasagna rollups. The inner filling is seasoned to perfection with Italian herbs and sweet white miso, and then everything is slathered in a rich marinara sauce. This dish is perfect for entertaining guests when you're short on time.

DESSERTS
Looking for something sweet to round out your meal? These desserts taste incredibly indulgent without using processed sugar, oil, or animal products. Whip up one of these popular recipes when your sweet tooth is calling or you're hosting a plant-based dinner party. Whip up one of these popular vegan recipes when your sweet tooth is calling or you're hosting a plant-based dinner party. It's time to treat yourself!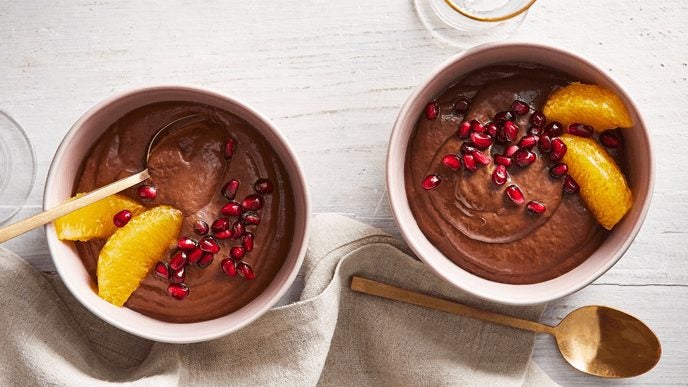 This rich chocolate pudding gets its creamy texture from an unlikely ingredient—avocados! Blended with sweet ripe bananas and plant milk, you'd never know that this treat is vegan. Top it all off with a sprinkle of pomegranate seeds and orange slices for a quick dessert that really hits the spot.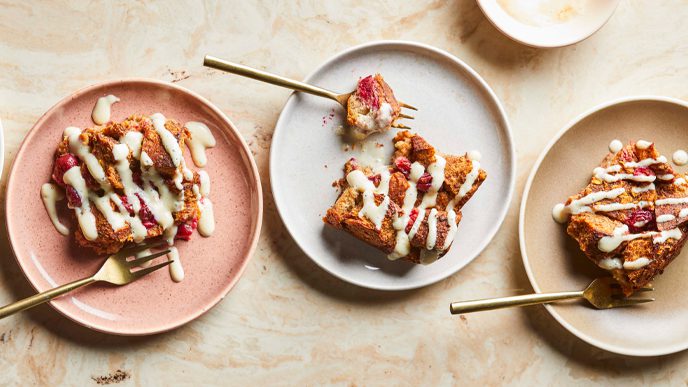 Transform that old loaf of bread into a scrumptious dessert that's packed full of zesty flavors. Tangy orange juice and tart cranberries are swirled throughout this plant-based pudding, with a simple vanilla cream sauce to top things off. You'll be surprised by how easily a few healthy ingredients turn into an indulgent treat after a quick bake in the oven!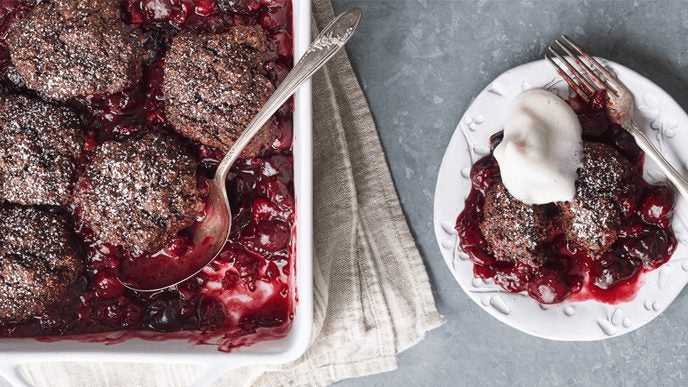 Cherries and chocolate are a pairing made in heaven, and this vegan cobbler recipe showcases that divine flavor combo at its finest. Fluffy chocolate dumplings are nestled in a warm, gooey mixture of sweet cherries, dates, and almond flavoring. Plant-based whipped cream is the perfect finishing touch for this decadent fruit-forward cobbler.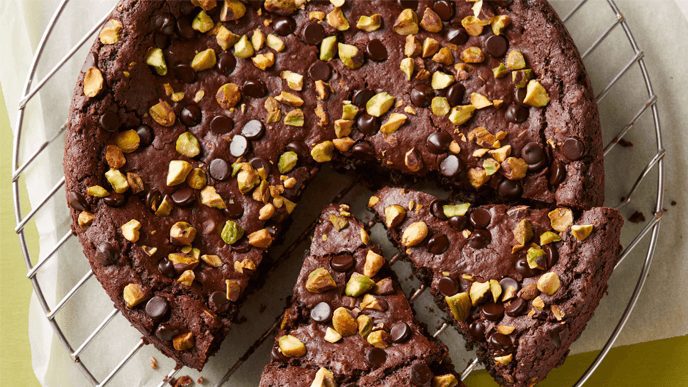 A little plant-based magic can go a long way, and these vegan brownies are no exception. Black beans are transformed into a scrumptious dessert that is rich, chewy, and chocolatey. Sprinkled with chopped nuts and dark chocolate chunks, both kids and adults will devour these unbelievably delicious treats.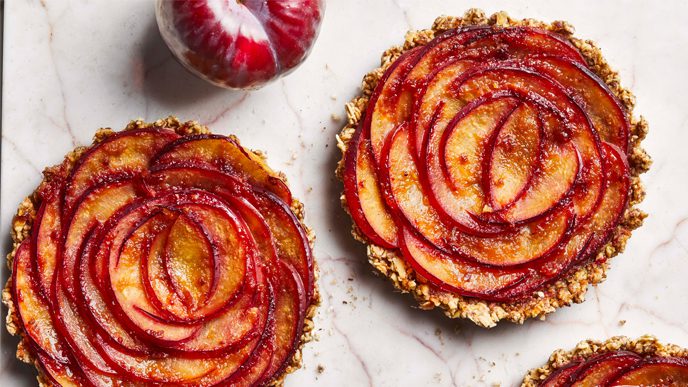 Impress the guests at your next dinner party with a healthy vegan recipe that also doubles as a show-stopping dessert! Succulent plums are fanned out in the shape of a flower over a homemade oat and almond butter crust. Ginger, cinnamon, and fresh lemon zest add a delicious depth of flavor that will surely make this treat the talk of the town.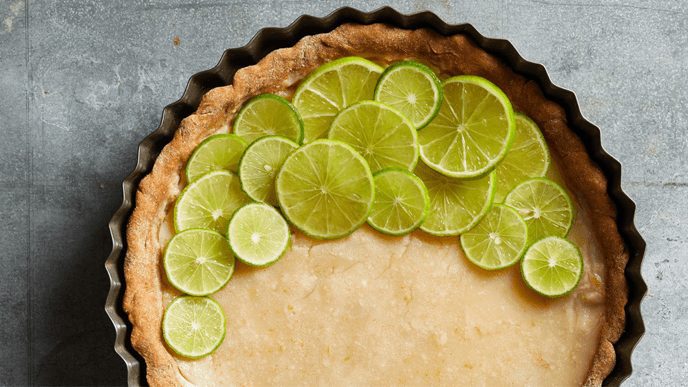 Craving a tropical vacation? This key lime pie should do the trick. The tangy citrus filling has a lusciously creamy texture that's naturally sweetened with maple syrup, and a lightly salted almond butter crust perfectly complements the tart interior so you get a full range of flavors in every bite.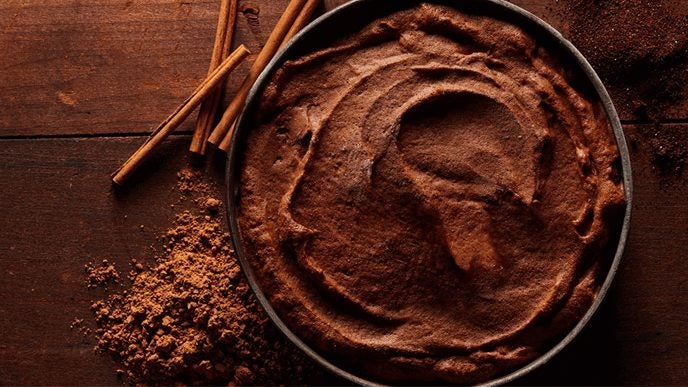 Elevate your average nice cream recipe with this creamy, sweet, and subtly spicy version of a Mexican hot chocolate. This easy dessert uses just five ingredients and can be served immediately or stored in the freezer for days when your sweet tooth comes calling.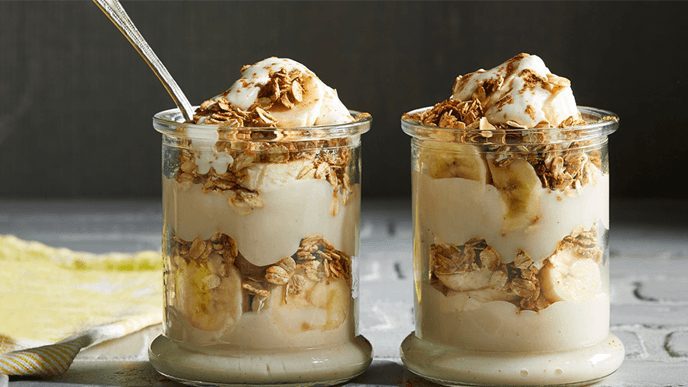 Enjoy these naturally sweetened parfaits for breakfast or dessert! An easy stove-top vanilla pudding is drizzled between layers of ripe banana and crunchy homemade granola that's scented with cinnamon, vanilla, and nutmeg. Add a dollop of cashew cream on top, and bon appétit.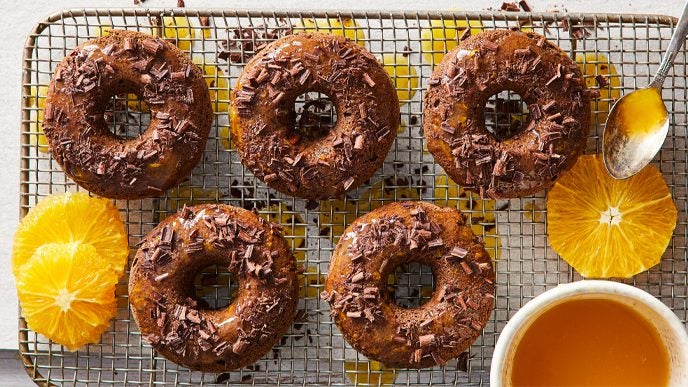 Indulge in these rich treats, which combine two of the world's best flavors—chocolate and citrus. The sweet rounds are enhanced with orange zest, juice, and segments to really make the tangy element pop. A few tablespoons of tahini add extra moisture and a slight nutty flavor to offset the sweetness, making this vegan dessert recipe one you'll want to bake again and again. 

HUNGRY FOR MORE HEALTHY VEGAN RECIPES?
We have a huge variety of wholesome, nourishing vegan recipes to get you through every day from start to finish.
Ready to get started? Check out Forks Meal Planner, FOK's easy weekly vegan meal planner to keep you on a healthy plant-based path. To learn more about a whole-food, plant-based diet, visit our Plant-Based Primer.