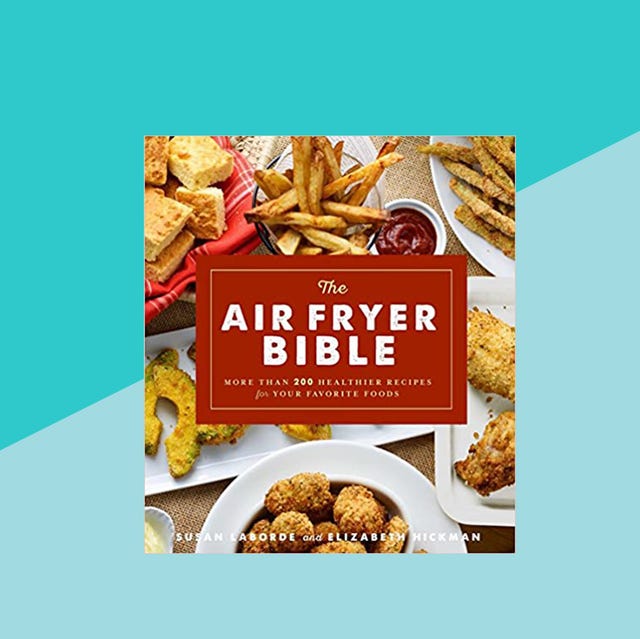 Amazon
Air fryers have become the latest must-have kitchen tool. From shorter cooking times to less of a clean-up, air fryers will make your life a lot easier. Plus, you can pretty much pop any type of food you want into one and get deliciously crispy results—which is why we've rounded up the best air fryer cookbooks to help you create fast and delicious meals.
"The thing that makes an air fryer unique is its ability to circulate heat," says Catherine Perez, M.S., R.D., L.S.D., the plant-based registered dietitian behind the food blog Plant-Based R.D. "Most air fryers have a basket or insert that is usually perforated. The holes in the basket allow air to circulate better around your food, similar to a convection oven, which helps to cook your food faster and also brown, caramelize, and crisp food easier," she explains.
Air fryers also promote better-for-you frying, thanks to their design. "Foods that you'd normally crisp up in a traditional oven need only a small amount of oil to crisp up in the air fryer. This significantly reduces the amount of saturated fat one will consume, which can help reduce the risk for chronic diseases like heart disease," adds Perez.
And using less oil doesn't mean your food won't fry as well. "Because of the air fryer's hot, dry, swirling air, you still get that delightful crunch and color," says Jackie Newgent, R.D.N., C.D.N., a plant-forward culinary dietitian, chef, and author of The Clean and Simple Diabetes Cookbook.
Ready to create some Instagram-worthy air fryer recipes? Ahead, check out the best air fryer cookbooks to help you whip up some new breakfast, lunch, and dinner recipes. Time to get frying!
Advertisement – Continue Reading Below
1
BEST OVERALL
Air Fryer Cookbook
If you struggle to think about what you should make for dinner every night, you'll benefit from this book. It includes a whopping 600 recipes for quick and hassle-free frying! Plus, it caters to various dietary preferences including vegetarians, meat-lovers, and those with sweet tooths. 
2
BEST VEGAN COOKBOOK
Healthy Vegan Air Fryer Cookbook
Calling all vegans! Not only will you get 100 recipes from tacos to cake, but you'll also learn all the different ways to use your air fryer. Including how to bake, roast, and grill. You'll also find mouth-watering images of each dish next to every recipe! 
3
BEST BUDGET-FRIENDLY
The Complete Air Fryer Cookbook
This easy-to-use cookbook is just $9 and has everything you need to create mouthwatering meals (buffalo chicken bites, yumm). It also comes with practical guidelines for using your appliance and recipes that go beyond air frying. Yes, it's possible to use your air fryer to grill, steam, and roast—and these 100+ delicious recipes make it easier than ever! 
4
BEST FOR BEGINNERS
Simple Air Fryer Cookbook with Pictures
If you're new to air fryers and want to start with a few basics, this is the book for you. It's filled with tasty recipes, colorful photos, simple-to-follow directions. "I loved this book," wrote one satisfied Amazon customer. "It relieved my concerns because the instructions are simple and easy to understand. The recipes are easy to follow and taste delicious."
5
BEST FOR THE AIR FRYER PRO
Air Fryer Perfection
Okay, this book had us at the title, from juicy steaks to crispy fries, we're adding it to our carts ASAP. It's filled with 75 easy-to-make and great-tasting recipes. Plus many of the recipes are also paired with side dishes to create a complete meal. "There are some really useful hints and tips for using an air fryer which I appreciate since I am a novice," wrote one shopper. 
6
BEST FOR COMFORT FOOD
Good Housekeeping Air Fryer Cookbook
Who better than Good Housekeeping to explain all the basics of using this top-rated miracle machine? Home cooks will find 70 family-pleasing healthy recipes for tasty comfort dishes, including chicken caprese, rye-crusted pork chops with apple slaw, finger-lickin' fish tacos, and jalapeño poppers. Every recipe is triple-tested in the Good Housekeeping Test Kitchen for guaranteed success every time.
7
BEST KETO AIR FRYER COOKBOOK
Keto Air Fryer
If you started following a keto diet for the New Year, let this cookbook help motivate you to stay on track. Wellness expert and author, Maria Emmerich, has put together tons of low-carb, keto-friendly recipes designed specifically for the air fryer. "If you want to ditch using a microwave to reheat leftovers, the air fryer is perfect! Never soggy crusts on Keto pizzas again!" said Emmerich in a statement on her website. 
8
BEST FOR RECIPES BEYOND FRYING
Air Fry Everything
Don't be mistaken by the name—your air fryer can create more than fried foods and this cookbook will provide you with recipes that prove just that. From marinated rib-eye steak with herb-roasted mushrooms, to inside-out cheeseburgers, and honey mesquite pork chops, it feels like you can pretty much air-fry everything in your fridge.
9
MOST RECIPES
The Air Fryer Bible
In the air fryer, we trust and in this cookbook, too! The Air Fryer Bible will show you how to make the most of your magical kitchen appliance to create more than 200 amazing dishes. Start off your morning with delicious quiche cups. Snack on mozzarella sticks and string bean fries for lunch. Then enjoy your evening while feasting on coconut chicken with apricot-ginger sauce for dinner. These recipes will save you time, promote heart health, and even encourage weight loss. 
10
BEST FOR HEART-HEALTHY MEALS
The Healthy Air Fryer Cookbook
Healthy food? Or fried food? Why not both! This cookbook features recipes that follow the American Heart Association guidelines, while still offering great flavor and crunch. You'll find 100+ recipes for breakfast, lunch, and dinner. Plus, the author, Linda Larsen, has also included tips on healthy heart eating and how much salt and fat each recipe saves you. 
11
The Super Easy Air Fryer Cookbook
We're suckers for fried foods and if you are as well, you've landed on the perfect pick. This cookbook offers 100 easy and healthy air fryer recipes that won't compromise the taste or texture of your favorite fried foods. Craving some fried wings? Check. In the mood for some cinnamon sugar donut holes? Check. Grab the book and get your frying on!
12
Air Fry Every Day
Featuring 75 recipes, including triple coconut shrimp, cheesy pull-apart garlic bread, and gooey brownies, this book has got you covered when it comes time to cook. With recipes that are creative, fast, plus bonus tips and techniques, this is a must-have air fryer cookbook to get the most of your favorite kitchen gadget.
13
Plant-Based Air Fryer Cookbook
Air fryers make it possible to cook nutritious and crave-worthy plant-based meals in a fraction of the time they would take in the oven. Even better? This cookbook will easily guide you through creating all the plant-based recipes you could ever think of.  Each of the 75 whole-food recipes minimizes salt, oil, refined flours, and refined sugars to keep each meal in line with a healthy, plant-based diet.
14
The Essential Air Fryer Cookbook for Two
If it's only you and your partner at home, you'll both enjoy taking turns cooking meals for two with this cookbook. You'll get essential guidance for using your air fryer and more than 100 recipes that are perfect for creating small-scale meals. Customers also love that book features handy charts with cooking times and temperatures to guide you. 
15
The Skinnytaste Air Fryer Cookbook
With a 4.6-star rating and over 500 rave reviews, this cookbook deserves a spot in your kitchen. Recipe developer and author, Gina Homolka, has put together 75 of her best recipes that work in every type of air fryer, including basket models and countertop ovens with air fryer settings. You'll find yummy recipes, including pickle-brined chicken tenders, Korean pork lettuce wraps, and charred sesame green beans.
This content is created and maintained by a third party, and imported onto this page to help users provide their email addresses. You may be able to find more information about this and similar content at piano.io
Advertisement – Continue Reading Below